on
April 24th, 2014
at
7:39 am
23. We're picking up where we left off. Consider all of these points as notes to my past self rather than gospel.
24. In The Talent Code, Daniel Coyle looks into why Brazil is a soccer powerhouse. Naturally, being a country-wide ability, it's easy to cite genetics. What Coyle finds, however, is that Brazilians play a game called futsal.
24a. Futsal is played in a smaller area with a smaller ball. Because of this, they develop better dribbling and passing skills and quicker decision making skills than they otherwise would on a "normal" soccer field. Essentially, futsal is like soccer on speed. After playing futsal, soccer seems slowed down and easier.
25. If you were so caught up in playing soccer that you only played by the rules of soccer, you'd never play futsal. Don't get caught up in the boundaries of a sport. The rules simply are the rules because someone made them the rules. There's nothing special about sports—they're man-made confines.
26. When looking at "stealing" from an athlete that plays a certain sport, this is concern numero uno. You can extrapolate some heuristics (ie: athletes that are involved in "x" sport kinda sorta turn out like "y"), but you should also recognize that sports are naturally self limiting. You don't have to listen to the limits unless you're competing.
27. It's not even fair to say that people involve in "x" sport turn out like "y" because it could very well be the case that people already like "y" gravitate to sport "x" because they have an advantage.
28. This is why the whole, "Train like a(n) " is garbage. It's a soupy world, and what makes it even soupier is that there's no universal training method within sports.
28a. Some gymnasts don't touch barbells. Others, like Epke Zonderland, do. So what does it mean to "train like a gymnast?"
28b. Some Olympic weightlifters are minimalists. The Bulgarian system was all about mastering maximum weights with only a handful of exercises. Others aren't so minimalist. The Soviet system was all about doing accessory exercises to train specific strengths and weaknesses for the competition lifts. So what does it mean to "train like an Olympic weightlifter?"
29. When you don't dig far enough to uncover your own biases, you end up with this kind of thinking: I gotta' do the Olympic lifts to look like them there jacked Chinese Olympic weightlifters! Screw bodybuilding garbage!
29a. Although Chinese weightlifters do emphasize the snatch and clean and jerk, they aren't afraid of extra "bodybuilding" work at certain times of the season.
30. Or maybe you make the connection that training some bodyweight skills with your pull-up bar is the same as training like a gymnast even though you have no set of rings, don't do the pommel horse, don't do parallel bar routines, don't train for 4+ hours every day, and haven't been training and living on your hands as if they were feet since you were four years old.
31. This isn't to say you can't learn anything, but rather that the finer you try to get in your extrapolations, the further off you get. This is why I like heuristics.
31a. Some Olympic weightlifting heuristics might go something like:
Pull from the floor a bunch with varying grip widths Lift at different speeds Squat a lot Support things overhead
31b. For gymnasts:
Live on your hands as if they were feet Play on the floor, the bars, and the rings Do things that require total body coordination
32. The usefulness of heuristics depends on what you want to do. If you want to do the Olympic lifts, then do them. I probably wouldn't be writing about heuristics if a foot injury made me stop doing the Olympic lifts over a year ago.
32a. Without being able to do the lifts, I've been more and more formless; I've been trying to take the big picture principles that fit my situation.
32b. For instance, since I can't clean or snatch, it's not like I abandon Olympic weightlifting roots. I still squat. I pull from the floor with low pulls, panda pulls, high pulls, and various other pulls. This is almost a futsal moment because the Olympic lifts weren't really "made" for anything besides being an efficient way to get the bar from the ground to an overhead position while playing by the rules of Olympic weightlifting.
33c. So for me, pulling from the floor + jumping in the grass = good aesthetic and athletic blend without being married and obsessed with power cleaning 302 lbs instead of 300 lbs. But again, it all depends on what you want to do. If I had a healthy foot, I might be obsessing over 302 lbs right now. And to be honest, I'm not sure whether that'd be good or bad. All I know is that right now I'm able to keep my wires straight. I deadlift and squat to strength train, I hop around outside to hop around.
33d. Because, context. Power cleaning won't improve what I want to do anymore than what I'm doing. There was a time when it would improve what I wanted because I wanted to power clean.
34. What people don't realize is that CrossFit, although it merges both barbell and bodyweight exercises, is perhaps the worst contextual program in the world because it's random. The only reason to do CrossFit is if you want random results or don't care about how your body adapts. (I have more on CrossFit. Now isn't the time or place.)
35. Last time I mentioned the difference between the "river" and it's "tributaries." You can also think about a hydra. If you have multiple heads (avenues of interest), you still need body that glues the heads together – a body that can support the heads of interest.
36. Given the goals from last article, I have a lot of heads. Also, given that I think the barbell is the most sensible starting point, I start with a basic basic barbell program based on Olympic weightlifting heuristics. Basic bodyweight training is also included to lead into a gymnastics "head." Also on the list: elements to prep for high frequency training, specialized hypertrophy, and specialized power-explosiveness.
37. What about Olympic weightlifting specialization? That's inherent in the base program because I like to start with the barbell. I'm sure some people that start with bodyweight have a more gymnastics specialization from the start.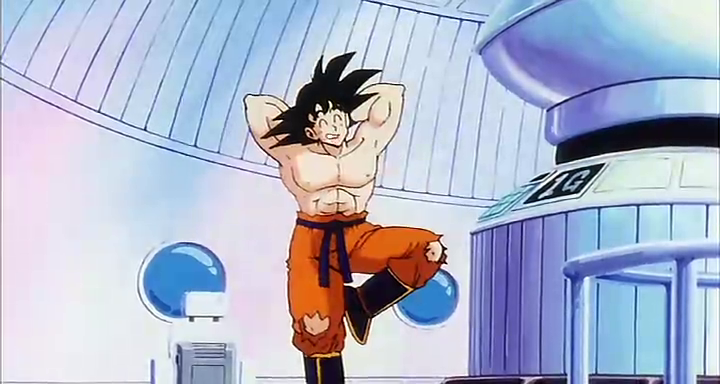 37a. Qualifying allegiances is stupid. I'm not doing that. When you're in the Capsule Corp. shuttle on your way to save planet Namek, you need to be able to move yourself through space and resist supragravity. Barbell and bodyweight training are both good. I think fusing them together is best.
37b. I start with the barbell simply because I know no other way. I believe in writing about my experiences and not some fantasy land prose.
38. And this is exactly what B3W is. Get it? BB+BW. BBBW. B3W. Ok, so the name is tentative. (Give me a break.) B3W is my philosophy on barbell and bodywieght training that's designed to…
Lean how to take dls into snatch dls and other olympic pulls
Most importantly, it's designed to incorporate elements of.
39. This is a program that does everything and nothing. Will it grow you some muscle? Most likely. Will it make you more powerful and explosive? Probably. But as with everything else, these are merely side effects of preparing for those "heads" down the line.
39a. This preparation is something not a lot of programs do. And if they do any sort of preparation, they're usually for an existing sport like powerlifting or Olympic weightlifting.
40. To give you some history, B3W started after I broke my foot. For most of my training life, I struggled to do everything I wanted to do. One of those things was strength train and trick. I looked at Olympic weightlifters and decided if they could squat to a maximum often, I surely could be able to squat one day and trick the next.
40a. This led me to the money split that I've used for years: squats/presses one day, pulls the next day. I started conservative and saw good things. After the ball got rolling, I started to tweak things only to realize that it wasn't that hard to emphasize hypertrophy…or train gymnastics…or train with a high frequency. And it all starts with modifying this "base" program. The hydra's body. The river. 
40b. Actually, I found the squats/presses – pulls split to be really effective for gymnastics exercise, while also trying to train barbell exercises. Training the upper body all on one day became a logistic nightmare trying to find a way to manage the stressors. Training with an advanced split was much of the same (is the planche a shoulder exercise? chest? bicep?)
41. That base program = B3W.
42. And back to this: B3W a program that does everything and nothing. What exactly is "everything?"
Since it uses Olympic weightlifting heuristics, it naturally errs to the strength and power side of adaptations in the lower body. (You're also on the way towards building a body like an Olympic weightlifter, specifically the back.) With the bodyweight additions, you get enough upper body work in to not only build some muscle there, but also prepare for more intense gymnastics exercises. (You also do barbell exercises for the upper body.) There's a smattering of extra aesthetics work, too. (Because adding biceps curls to programs makes people mad, and I take a slight joy from that.)
42a. And all around, it's built to prepare you for what you need. For most beginners, that's putting an emphasis on getting stronger. More importantly though, it's teaching you a philosophy a stress and recovery that sticks for a long time.
43. By a "long time," I mean just about forever. And that's a good place to say, "until next time."